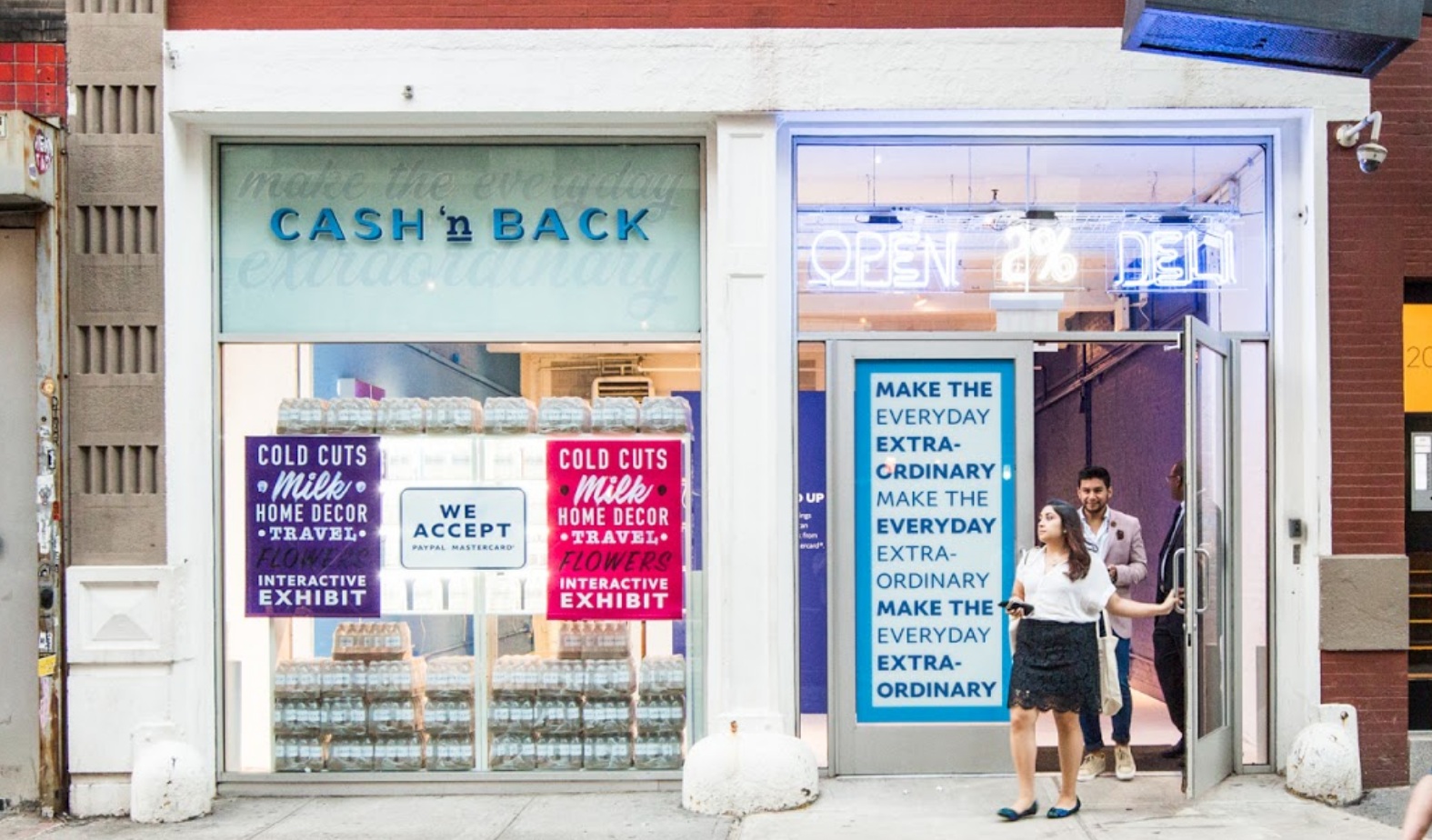 For the launch of the PayPal 2% Cashback Mastercard, we reimagined a New York convenience store to create an unexpected and bespoke brand experience tailored to the unique preferences of our audience.
Based on the insight that millennials are now using credit cards on everyday items and spending enough in a year to earn $500 cashback, we carved out a unique value proposition for the store with the idea of Everyday Extraordinary, where everyday items can magically transform into extraordinary things over time. Each department was transformed into an interactive art exhibit of our audience's favorite splurge items created out of the everyday items they purchase most on their credit cards. A dress made of flowers, a chandelier made of candy, a turntable made of pizza….all reflective of our audience's survey input and created by our influential partner artists and makers. And each creation begged for a selfie.
We hosted the media and lifestyle influencers at a special pre-opening event and then opened our doors to the public for one special day.
From Flowers to Fabulous
The flower section featured a beautiful dress made of real flowers, designed by FLWR Studio, that visitors could step into for a selfie.
Now Serving Flights from Deli to Delhi
The deli counter featured an urban terrarium made of food, designed by the legendary diorama and miniature experts or Nix + Gerber Studio.
From Candy to Eye Candy
A beautifully-Instagrammable wall, adorned with lollipops culminated in a colorful, lollipop chandelier, designed by Alexis Jesup, of Colors Collective.
From Farm to Table Reservations
The produce section featured the furnishings of a luxury dining experience made out of fruit with glamorous seating for a photo opp.
Well-groomed to Well-cultured
Our bodega cat lounge featured photos of famous NY bodega cats photographed by Andrew Marttila. The space doubled as a maker workshop for the media.
Money Goods
Aisles of food items displayed custom labels that reinforced that money was to be had with the PayPal 2% Cashback card.
Results
This truly bespoke campaign custom-tailored campaign showed how the PayPal 2% Cashback card could get our audience more than miles, points or even 2 pennies on the dollar. It could get them what they really wanted most.